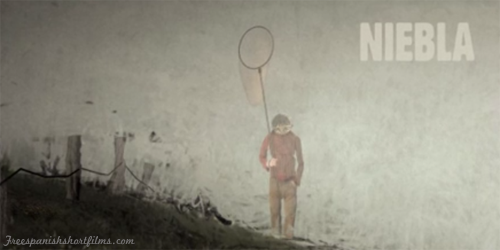 Niebla (Fog, in English) is the story of an old man reminiscing his younger days. He talks about his hometown, a place that has always been covered in fog. Perhaps few can talk about its days of prosperity, but not El Pep. He remembers the days when the town was thriving, thanks to the floating sheep from the sky.
This is a very curious film, and one with such beautiful animation. It is rather poetic, and rings of magical realism not unlike a Gabriel García Márquez book. It's a little gritty and a little sad, as such stories go, but it also has hope, joy, and floating babies. Here's a snippet regarding what the director said about this film:
"The character is strongly based on my grandmother," Ramos says. "She was a very complex person, with many frustrations in life… At the end of her life, she suffered from dementia… The only moments we could communicate with her were when we asked her about her past life. Those memories were the last to vanish."
Have you ever been told wondrous stories by your own grandparents? My grandparents would sometimes tell me stories of how they survived the war in the '40s, but they never quite mingled fantasy into their own memories. Not yet, anyway.
(This is available with English subtitles on Vimeo and YouTube. Click here for another curious short film about a lonely scarecrow. Click here to follow the journey of a cat in space. And click here for a feature-length film about a young girl and a labyrinth.)
---
Niebla may also be viewed on YouTube.
Directed by Emilio Ramos Fernández