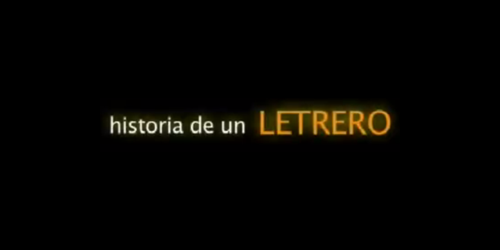 Historia De Un Letrero is set on an ordinary day at an ordinary park. The usual sights can be seen: playing children, people passing through, and the occasional beggar. On this particular day, a blind man is sitting in a spot with a simple sign asking for alms. He will soon be spotted by a man in a suit, who is about to do something special that will change the way people will see the poor man.
This touching short film actually won a prize at the 2008 Cannes Film Festival. I suppose there's just something about the movie's simplicity and the breath of everyday life it has, too. It's quite amazing how just a few words can change your perspective on things.
(Just to note: There has been talk that the concept for this film was taken from another short film named Una Limosna, Por Favor. Check out this video for more details.)
I honestly thought that this is quite a touching movie; it actually brought tears to my eyes. What about you? What do you think of the man's actions and the words he used?
(Historia De Un Letrero is available with English subtitles on Vimeo and YouTube. Click here for another award-winning film involving two strangers. Click here for another film about communicating with your neighbors. And click here for a feature film about a stranger in a small town.)
---
Historia De Un Letrero, on Vimeo
Historia De Un Letrero is also available on YouTube.
Directed by Alonso Álvarez Barreda