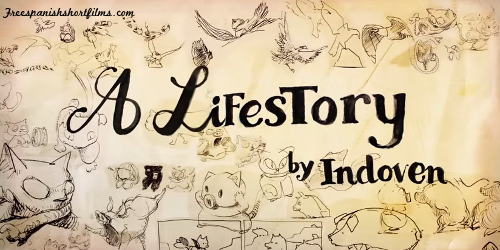 Told with an original score and scenic animations, A Lifestory features a cat that goes on an adventure in space. This cat will have to say goodbye to its home, but it will meet odd creatures, interesting new things, and a dream to be fulfilled. Notably, this beautiful 4-minute silent film was nominated for a Goya.
This is an artful view of a soulful journey. It seems like a complicated story, but, in its heart, it talks of a parallel voyage sung in the apostle Thomas' Hymn of the Pearl. Here's an excerpt of the director's take on the film (which may also be read on the film's website):
The original poem is considered epic or mystical, we were drawn to it by its archetypical side, by its universal elements which can be found in everyone's psychology…
All in all, this is a surreal, yet touching film. A lovely visual treat with thought-provoking content.
(This is available on both Vimeo and YouTube. Here's another animated film that was also nominated for a Goya. And here's another film that is silent and animated, but short, sweet, and beautiful.)
Directed by Nacho Rodríguez