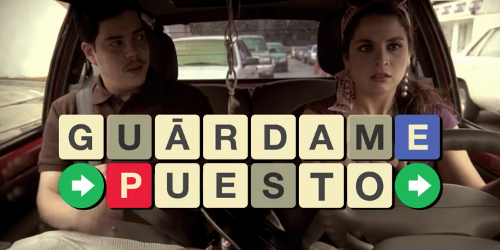 Guárdame Puesto (English: Save Me A Spot) starts out with a couple in a car. The lady is driving today, since the guy hurt his arm recently. While she may not be the best of drivers, she at least gets them safely into the mall's parking lot. This is where their patience truly gets tested.
This is an amusing look into one of a driver's top problems in a busy city: parking space. But, it also shows some of the simple trials a relationship goes through. I could also relate to the woman's struggles with driving the stick shift, especially when a backseat driver's around. With drama, handicaps, and zero parking spaces, this short film is an overall fun and enjoyable ride.
Have you ever had a driving/parking horror story? I really don't like driving in the city, much less parking. I'd rather commute or carpool to avoid it completely. Or park in the farthest corner if needed, since I don't mind walking. Looking for a parking space can be such a headache-inducing timesuck sometimes.
(Guárdame Puesto is available on YouTube and Vimeo with and without English subtitles. Click here for a film about a conversation between women in a car. Click here for a NSFW short film about a couple that spends plenty of intimate time in the car. And click here for a feature-length film about a guy with a car who wants to meet John Lennon.)
---
Guárdame Puesto, on YouTube (no subtitles)
Guárdame Puesto, on Vimeo (English subtitles)
Directed by Alfredo Hueck