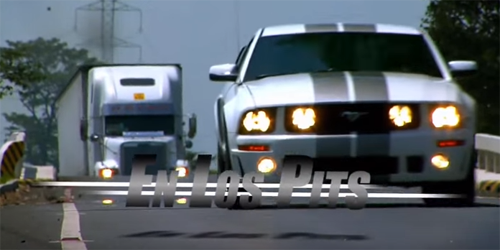 En Los Pits centers around the racetrack. Today, a group of people is preparing their team's concept car for the day's race. However, the official driver is nowhere to be found, and the race is about to start. Pamela, one of the mechanics who worked closely with the prototype, offers to drive the car herself. Will the boss say yes this time?
This short film does well to feature the highlights of the raceway: lots of cars, pretty women, pit crews, and plenty of driving action. The story in itself is rather simple, but the excitement of the racetrack echoes in each frame of the film. Car enthusiasts can feast their eyes on different models featured here though, and the initial driving sequence is not half bad, too. Overall, this is an interesting view of life in the racing lane.
I think that, even today, having a lady driver on the tracks causes quite a stir in the male-dominated world of motor racing. Sure, there have been a few films in the recent years about it, but I'm not sure if female racers are common to see in the raceways. What are your thoughts about it? Do you think that scene is changing, or has already changed so far?
(En Los Pits is available in HD and with English subtitles on Vimeo and YouTube. Click here to watch the struggles of a lady who isn't used to everyday driving. Click here to watch a conversation that takes place almost completely in a car. And click here for a feature-length film featuring the illegal car racing scene in Spain.)
---
En Los Pits is also available on YouTube.
Directed by Rafael Tres