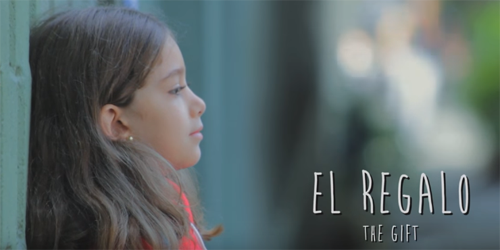 El Regalo (English: The Gift) begins with some kids going to class. Today, a girl in a red jacket seems particularly reckless. After not greeting her teacher properly, she is sent to the principal's office, though with a smile on her face. A boy who seems to look at her a little too closely soon follows suit, and they meet each other by the hallway just before the girl runs away, perhaps in hopes that he will follow.
This short film may not have much dialogue, but simple smiles and shy gestures tell much, much more. There's just something about the youth of kids that gives an innocent and strange view of the affair, and that's what makes it all the more precious. Then again, all that hesitation is not something uncommon in the adult world too, so I guess falling in love can be quite an experience, no matter what age. All in all, this is a lovely film about crushes, puppy love, and awkward ways we show our love to each other.
I remember my own little experiences when I was young, mostly peppered with timid inexperience, big emotions, and lots of small and quirky gifts. What about you? What do you think of the relationship between Valeria and Tomás? Do you have any experience in your youth about liking a special someone?
(El Regalo is available with and without English subtitles, on YouTube and Vimeo, respectively. Click here for a film about young and old people falling in love. Click here for an intense story about the war between young girls and boys. And click here for a feature film about two kids fighting against everything for their relationship.)
---
El Regalo, on Vimeo (no subtitles)
El Regalo, on YouTube (English subtitles)
Directed by Alejandro Bonilla