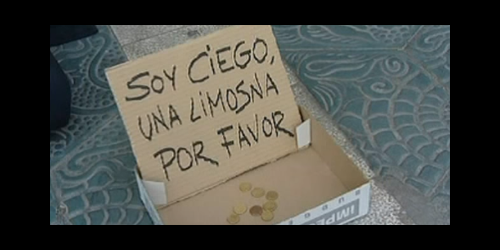 Una Limosna, Por Favor begins amidst the busy streets of a busy city. A lone blind beggar sits with his back against the wall, with only his dog and his sign asking for alms. One man stops to take notice, and decides to do something with the beggar's sign.
This 30-second film is short, simple, and sweet. I believe that this can also be a lesson about how difficult it can be to get people's attention, even if you have a pressing need. Still, using the right words can just change a person's perspective of things.
(Notably, Una Limosna, Por Favor was under scrutiny for some time, since people have alleged that the award-winning short film Historia De Un Letrero got its concept from this particular micro-short.)
This film may be very short, but I think it's charming in its own right. What about you? What do you think of the men's choice of words here?
(Una Limosna, Por Favor is available on YouTube. Click here for a story about a young blind boy. Click here to learn about the blind spot in our vision. And click here for a critically acclaimed feature length film wherein another blind man is involved in the story.)
---
Una Limosna, Por Favor, on Youtube
Directed by  Francisco Cuenca Alcaraz