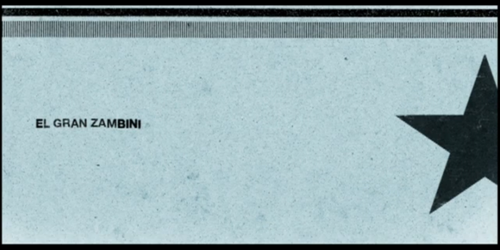 El Gran Zambini (The Great Zambini) centers around a man of short stature and his family of three. They live in a trailer at the outskirts of town, by the ruins of an old circus. While his son watches him carry on with the life he has with some embarrassment, he gets the idea to call on El Gran Zambini in hopes to reconnect them.
This film is a silent one, but that only makes the storytelling more potent. With images of circus canons, spacemen, and well-placed winks, this short film takes us on an adventure despite the everyday mundane. But beneath all the dirt and grittiness lies a father's heart and his wish to make his son happy.
This may feel a little slow sometimes, but each second of this film has so much story and promise. It's heartfelt, it's fantastical, it's moving, it's beautiful.
(El Gran Zambini is available on Vimeo and YouTube. Click here for a short film about a man who's trying to send a message to his coworkers. Click here for a film about an old lady who only wants the best for the one she loves. And click here for a feature film about clowns in a circus.)
---
El Gran Zambini is also available on Vimeo.
Directed by Emilio Pérez & Igor Legarreta