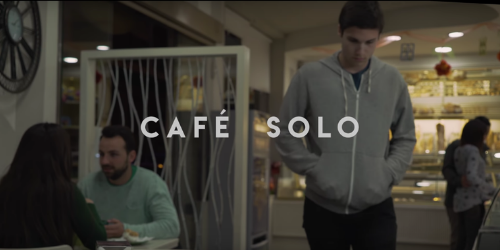 Café Solo starts off with a man asking for a cortado, a coffee with milk, but the new waitress gets his order wrong and gives him a black coffee instead. Is she cute enough for him to look past her mistake?
The film is lovey dovey, and really cutesy in its own way. It chronicles the adventures of a young man in love, and the cups of coffee he drinks as he watches the young woman with a bright smile. But there's more to it than you'd think, past the holiday treats, the endless madeleines, and the coffee shop music – the echo of reality and the pangs of desire.
What I thought would be a typical romance actually ended up surprising me. It's short and almost too sweet in its own right, but that endnote really had quite the punch.
(Café Solo is available on YouTube with English subtitles. Click here to watch another young man talk awkwardly towards a young woman. Click here for another cutesy film about two people talking about the ones they love. And click here for a classic feature film on the perils of falling in love.)
---
Café Solo, on YouTube (English subtitles)
Directed by Toni Villazan