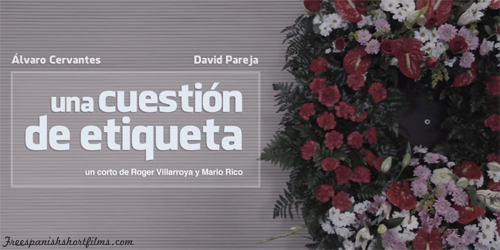 Una Cuestión De Etiqueta (A Question Of Tagging, in English) starts off with a funeral. There are a few murmurs, some tears, and hushed tones. A man, the brother of the deceased, slowly goes toward a lonely figure staring by the window. He then quite angrily asks the guy about a recent photo he posted on Facebook, the one where his brother was tagged in.
This short film, in itself, is interesting. It subtly questions whether or not there is a right time and place to "properly" use a social networking site. I guess that using Facebook, Twitter, etc. is so ingrained in our society that sometimes some of us don't even think twice about posting something anymore. Still, would you have tagged your recently deceased best friend at his funeral? This is quite a thought-provoking point for me.
(This is available on both Vimeo and YouTube with English subtitles. Here's a curious film about a bored girl who may or may not have an Internet connection. And here's a film about a couple talking about WhatsApp messages.)
---
Una Cuestión De Etiqueta, on Vimeo
Una Cuestión De Etiqueta is also available on YouTube.
Directed by Roger Villarroya & Mario Rico