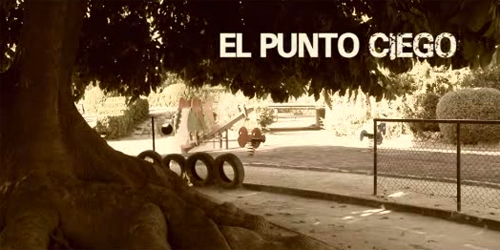 El Punto Ciego (English: The Blind Spot) starts off with how there is a part of our vision that is invisible to the eye, hence, the "blind spot". As a tired man closes the book with this information in mind, another man, a porter, asks him if he's studying medicine. They carry on a simple conversation, and we are suddenly given another view simultaneously- this time of the porter's room. They continue talking, and the interesting view of the room continues, until a woman catches the porter's eye. Curious events then unfold in the split screen.
What makes this short film quite unique is the use of split screen to tell the story. It's amazing how the events unfold on both sides, and how they actually connect to each other. It can be chilling to see the disturbing images on one side while tuning in to a seemingly normal conversation on the other, but this lends a great eerie feel to this thriller flick. Great storytelling, and quite a creepy tale all in all. Bravo.
I really enjoyed the novel way of telling this story, but the little foreshadowing here and there built up quite the thrill for me. What about you? What do you think of the split screen storytelling done here?
(El Punto Ciego is available with and without English subtitles on Vimeo and YouTube. Click here for a film about two men investigating the return of a dead man. Click here for the story of a man who takes the interest of a random stranger. And click here for a feature-length film about another man obsessed with medicine and a woman's flesh.)
---
El Punto Ciego, on Vimeo (no subtitles)
El Punto Ciego, on YouTube (English subtitles)
El Punto Ciego is also available with English subtitles on Vimeo.
Directed by Álex Montoya & Raúl Navarro