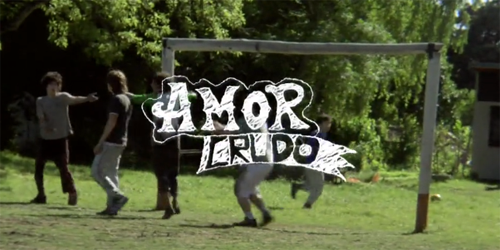 Amor Crudo (English: Raw Love) is about two guys who are the best of friends. They play soccer with their buddies regularly, they joke about girls, they have regular sleepovers, and they do almost everything together. Their relationship is placed in focus, especially since it's only a few weeks until the school year ends. What will happen between the two of them? Will they still have the same relationship afterwards?
This film is about the rather vague and mixed emotions of teenagers as they struggle to find out who they really are. There isn't really a confirmed note about the feelings of the protagonists here, only an inkling of what they feel about themselves. However, the story is very real and very close, and I believe that even the main characters of this story don't know how to keep the flow going. Either way, this film captures perfectly the coming-of-age that comes to us all as we wonder about who we are to ourselves, to our friends, and to everyone we know and don't know.
I know what it feels like to fall in love in high school – the uncertainty, the rush, the newness of it all. I remember how strange it felt, and how exciting. Have you ever felt that? What are your own experiences?
(Amor Crudo is available with and without English subtitles on YouTube, Dailymotion, and Vimeo. Click here for a film about another pair of guy friends, with one guy having the same dilemma as the one here. Click here for a film featuring yet again the awkwardness of teenagers' mixed emotions. And click here for a popular feature-length film about two guys learning about themselves and each other, thanks to a special woman.)
---
Amor Crudo, on YouTube (no subtitles)
Amor Crudo, on Dailymotion (English subtitles)
Amor Crudo is also available on Vimeo without subtitles and with English subtitles.
Directed by Martín Deus & Juan Chappa