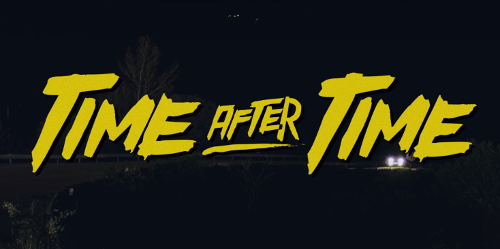 Time After Time is set in the year 1985. Pablo has always been in love with Susana, and he finally gets his chance with her tonight. But, just before he finally manages to spend some intimate time his special girl, he bumps into a stranger. The stranger tells Pablo that he's Pablo from the future, and he's there to keep him from losing his virginity that night.
This short film has subtle references to the Back To The Future films, while giving a fresh and fun spin to the well-known boy-likes-girl story. Besides giving a great 1980s vibe, this film shows the advantages and complications of time travel. Overall, this is a great film that reminds you to be careful about the choices you make, no matter what time or place you make them.
The Back To The Future films have always been among my faves, and this short film is a nice tribute to the trilogy. What about you? What did you think of Pablo's time traveling to change his future?
(Time After Time is available with English and French subtitles on Vimeo and YouTube. Click here for another film about a guy trying to stop his past self from doing something reckless. Click here for a story about a woman wanting to prevent an inevitable thing from happening to the one she loves. And click here for a feature-length film about a man who accidentally travels back in time.)
---
Time After Time is also available on YouTube.
Directed by Pablo Silva González & Peris Romano