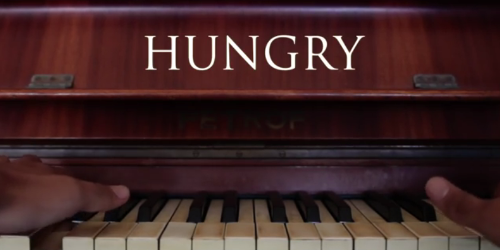 Hungry starts with a man by the door welcoming a small party late at night. They are the only ones in the small restaurant tonight, and they gather around the piano, where the man starts to play music. After a while, the guests gather around a table, where they are served wine and meat dishes. The piano music continues in the background.
This film may not have any dialogue, but it hints of something malicious behind the piano notes and delicious dishes. There is something to be said also about the harshness of dealing with students and the nonchalance some people may have towards musical instruments, but those may just be some things better left in the past. Perhaps the fact that such an otherwise ordinary dinner party can be subjected to dark undertones is to be expected on a night like tonight, but at least partake of the wine while enjoying your meal with the maestro.
This mysterious film may be short, but it says a lot more in music and unexpected twists. But what about you? What did you think of the man at the piano and his guests? Have you ever felt the way he had towards his past?
(Hungry is available in HD on YouTube. Click here for another silent film about a girl's musical talent with the violin. Click here for the story of a marriage being torn apart by a sonata.)
---
Directed by Vlad Segovia