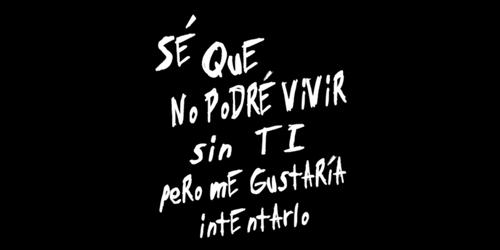 Sé Que No Podré Vivir Sin Ti Pero Me Gustaría Intentarlo (English: I Know I Can't Live Without You But I Would Try) opens with two women entering an apartment. They seem to be in the middle of an argument, particularly because one of them is bothered about the other's approach towards men – despite being in a relationship with her. They call each other names and shout in each other's faces, until a threat surfaces.
This micro-short film may be a scene between two women in a relationship, but it's also a quick look into how most people act towards their own romantic partners, whether homosexual or not. After all, love, jealousy, and misunderstandings inevitably come into play, no matter what sex you prefer. But what matters in the end is whether you'll choose to stick it through or to just give up. Or you can stop arguing and live in the moment, I suppose.
Arguments are a necessary evil of being together with someone, and it can be tough to resolve them sometimes. What about you? What do you think of the discussion between the two women here? Would you have done the same thing?
(Sé Que No Podré Vivir Sin Ti Pero Me Gustaría Intentarlo is available on Vimeo with English subtitles. Click here for a look into another couple's discussion about an everyday occurrence. Click here for the conversation of a gay couple about having an open relationship. And click here for a feature film about a straight woman and a lesbian womanizer.)
---
Sé Que No Podré Vivir Sin Ti Pero Me Gustaría Intentarlo, on Vimeo
Directed by Jesús Herrera