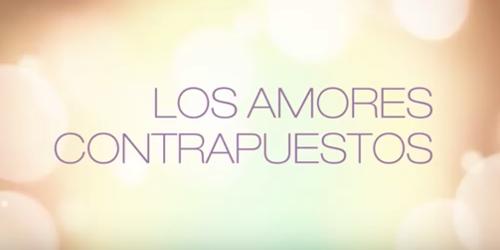 Los Amores Contrapuestos centers around Eva and Miriam, two young girls who are in love with each other. Everything seems to be going great between them, except for the fact that Eva's mother seems averse to the idea that her daughter is spending too much time with Miriam, when she could be looking for a boyfriend instead. Will Eva ever be able to tell her mother who she chooses to love?
This film presents a major challenge that many in the LGBT world face: the difficult possibility of their family's rejection due to their choices. While it's nice to know that there are many people out there who are supportive when it comes to loving whoever you choose, it can be hard to swallow the reality that sometimes, it can be a relative or a parent who will condemn such relations. Los Amores Contrapuestos shows just how difficult this may be, while stating as well the importance in standing up for what you believe in, and in the choices that you think are right for you.
I enjoyed the contrast here between the moms of Eva and Miriam, although it saddens me to know that there really are some people who prefer to remain narrow-minded when it comes to falling in love, no matter what their situation may be. What about you? What did you think of the relationships between Eva, Miriam, and their moms? Do you think they'll ever reconcile their differences?
(Los Amores Contrapuestos is available on YouTube with English and Spanish subtitles in closed captions. Click here for a film about a mom who only wants to be very supportive of her child's choices. Click here for a story about a young man trying to come to terms with his own sexuality. And click here for a feature film about a woman finding solace in another woman's arms.)
---
Los Amores Contrapuestos, on YouTube
Directed by Antonio Ufarte