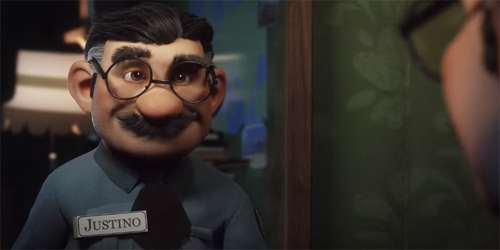 Justino (also known as Night Shift) is an animated film tells the story of an elderly night watchman. He works at a mannequin factory, and guards the place alone at night. One night, he gets the idea to surprise his daytime colleagues by using the mannequins, and they slowly start to take notice.
This short animated flick is actually meant to be an ad for the Spanish Christmas lottery, "El Gordo". Nevertheless, this film is well-made, funny, and utterly heart-warming. Told with no dialogue and subtle poses, Justino shows that little gestures (and some thoughtfulness) can touch people's hearts, even if you don't see them everyday.
I really enjoyed the simple creativity of this film, and had several chuckles here and there. (I also like the fact that Justino has an Instagram!) What about you? What do you think of Justino's clever use of mannequins?
(Justino is available on YouTube. Click here for a short film about a man working in another kind of factory. Click here for a film about a wolf seeking to make new friends.)
---
Directed by Againstallodds