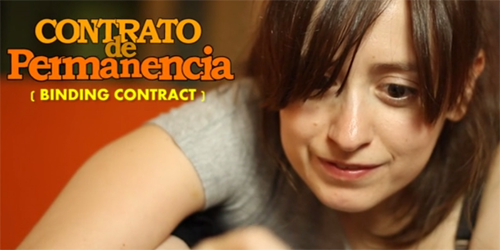 Contrato De Permanencia (English: Binding Contract) begins with Silvia, a woman enjoying a nice day at home. All of a sudden, she gets a call, informing her of a new offer, with special terms just for her. She seems excited about the contract, and tells her man about it as soon as he comes in. He dismisses it at first, until she tells him that she got a really good deal for a relationship this time, and she's waiting for his counteroffer.
This short film is an amusing take into how relationships are formed and made between two people. The thought that actual contracts with special conditions and flexible arrangements are drafted for relationships sounds preposterous, but this film does a good job of showing how society would run with this kind of thing in place. At any rate, even without a paper trail, people usually do have unwritten rules and terms between themselves, as well as a termination date that may or may not be extended in the future. Overall, this well-acted flick is an enjoyable ride into the terms and conditions people negotiate with, especially when forming long-lasting relationships.
I personally really enjoyed this film, especially when the two started their negotiations. It makes me wonder if the contract is really fair for the guy, too. What about you? Do you have any non-negotiables for your own relationship contracts?
(Contrato De Permanencia is available with English subtitles on Vimeo. Click here for a story about another couple with a special contract between them. Click here to see the agony of a man wanting something new in his relationship. And click here for a feature-length film about a poet making a special kind of contract for love.)
---
Contrato De Permanencia, on Vimeo
Directed by David Gutiérrez