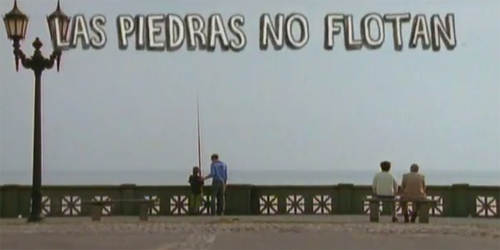 Las Piedras No Flotan centers on a man named Pedro. After his girl left him for an Italian swimmer, Pedro is determined to show her just how manly he is – by swimming across the Río de la Plata. His plan may be hindered by the presence of a news crew and the coast guard, but he'll get her back, even if he knows that rocks don't float.
This short film is an amusing story about a desperate man wanting to get back his ex. Things may not go as planned, but it's fun to see his struggles and realizations as he tries to do what he thinks is best. As they say though, there is plenty of fish in the sea, and your friends will always try to do what's best for you. All in all, this is a funny film telling us that you don't really need to prove yourself to the one you love, and that love comes as naturally as the tide in the sea.
I know what it feels like to want to prove myself to others, but ten out of ten times, it usually doesn't end well- and I may not have proven my point anyway. What about you? What do you think of Pedro's claims of manliness and love?
(Las Piedras No Flotan is available with English subtitles on Vimeo and YouTube. Click here for the story of a man who swears he can change for love. Click here for a film about a man who's waiting for a girl to notice what he does for her. And click here for a feature-length film about a comedian trying to get a man and his ex back together.)
---
Las Piedras No Flotan, on Vimeo
Las Piedras No Flotan is also available on YouTube.
Directed by Fabián Cristóbal