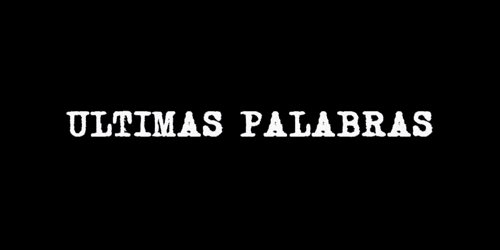 Últimas Palabras starts with a man with a typewriter. At first, he writes about his general thoughts, but as he continues to type on his typewriter, his thoughts move slowly towards his past, and he talks about finally deciding to give up.
This short film is a heartfelt journey of a man struggling with a story. I find it interesting that the film progresses with a monologue, with each word carefully chosen to tell the struggle of writing and letting go. There's also the interplay of the past and the present, the real and the imagined. All in all, Últimas Palabras works with an interesting use of words, emotions, and close ups to bring to a close a man's heartbreak.
I for one can relate to the release writing can give a person, especially when it comes to emotional difficulties. What about you? What did you think of the man's writing and ending?
(Últimas Palabras is available with English subtitles in closed captions on YouTube and Vimeo. Click here for another story of a man troubled by his past. Click here for a film about a guy musing over his life.)
---
Últimas Palabras is also available with no subtitles on Vimeo.
Directed by Patricio Nomdedeu