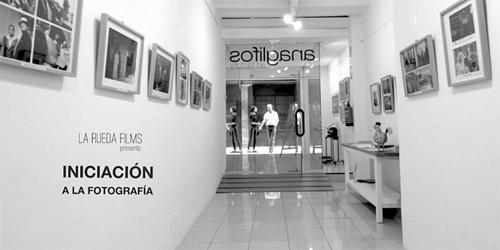 Iniciación A La Fotografía starts with a couple that passes by a photography studio. After some prompting by the lady, the two enter the office and disrupt an ongoing photography class. And that's where the awkwardness begins.
This amusing short film may seem to center around how a couple, especially a particularly talkative wife, is inquiring about photography lessons, but there's apparently more here than what meets eye.  It's funny how the agony and awkwardness of the inappropriate intrusion is topped by an interesting side note at the very end. Short, awkward, and rather annoying, but all in all a fun short.
I know how difficult it can be when you're in a situation wherein your companion doesn't quite know how awkward they're making everyone else feel. What about you? What did you think of the couple and the awkwardness that everyone felt at the studio?
(Iniciación A La Fotografía is available with and without English subtitles on YouTube and on Vimeo, respectively.  Click here for another story about a guy feeling awkward around a girl who doesn't speak his language. Click here for a guy practicing some lines before bringing up an awkward topic to his girl. And click here for feature film about a guy who wants to get revenge on his girl, but ends up in a rather awkward situation instead.)
---
Iniciación A La Fotografía, on YouTube
Iniciación A La Fotografía is also available without subtitles on Vimeo.
Directed by Nico Aguerre