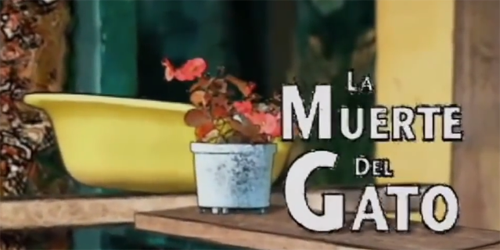 La Muerte Del Gato starts in a little apartment in Havana, Cuba in the 1960s. Two men, Raul and Camilo, have been plotting something against her for some time. They bring out the rifle just as Armando drops in. The man tells them to be very careful, as the police have been active in the area lately. With a nod of the head, they load the gun, and look over the landlady, who was screaming at a man.
This short film is, more than anything, a look into the life of the ordinary citizen after Fidel Castro took over the Cuban government in the late 1950s. There's commentary about food stamps, friends in jail, and relatives who are either sick, abroad, or forced to do creative things to make a living. There are also given facts of life of the time, like no running water, inconsistent electricity supply, black market rum, neighbors who rat you out, and the lack of meat. All in all, this shows an interesting picture of how it felt like to live in 1960s Cuba, especially when your landlady's a rat with a cat.
As with any turbulent times, it can be difficult to continue living and finding hope when there seems to be none. What about you? What do you think of the life of three men in the film, especially Armando's?
(La Muerte Del Gato is available with English subtitles on YouTube. Click here for a film featuring political prisoners. Click here for a film about a general's last moments.)
---
La Muerte Del Gato, on YouTube
Directed by Lilo Vilaplana