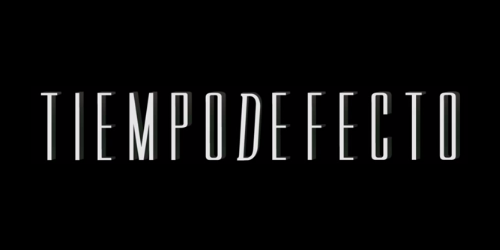 Tiempodefecto starts in a restaurant. Among the hushed conversations and tinkle of plates, César is asking Lorena about things in an apartment he does not want to go back to anymore.  Their talk is interrupted by the sound of a plate breaking, and he helps the waitress pick up the broken pieces. Just then, a man raises his gun, declares that it's a robbery, and shoots César. Lorena runs to the washroom, and once she recovers herself, walks to out to see that it's as if nothing happened.
This short film presents an curious spin to an already memorable night for all the people involved. While the story may mainly feature a couple on the verge of a break up, it also mixes elements of crime, loss, and, interestingly, science fiction. Overall, Tiempodefecto is quite an exhilarating yet enjoyable story of a woman who, in her attempts to prevent the inevitable, ends up learning that sometimes, the best way to show that love you someone is by just letting them go.
There's something about the pain Lorena went through over and over again that just tugged my heartstrings. (This also rather reminded me of a Japanese animated show, Puella Magi Madoka Magica, wherein one of the lead characters also had to deal with an inevitable loss.) What about you? What do you think of Lorena's attempts to salvage the situation? Would you have done the same in her case?
(Tiempodefecto is available on Vimeo and YouTube, with and without subtitles, respectively. Click here for another story about a young girl dealing with loss and time. Click here for the story of a man coping with a devastating loss with the help of a spider.)
---
Tiempodefecto, on Youtube (no subtitles)
Tiempodefecto, on Vimeo (English subtitles)
Directed by Juliana Pineda